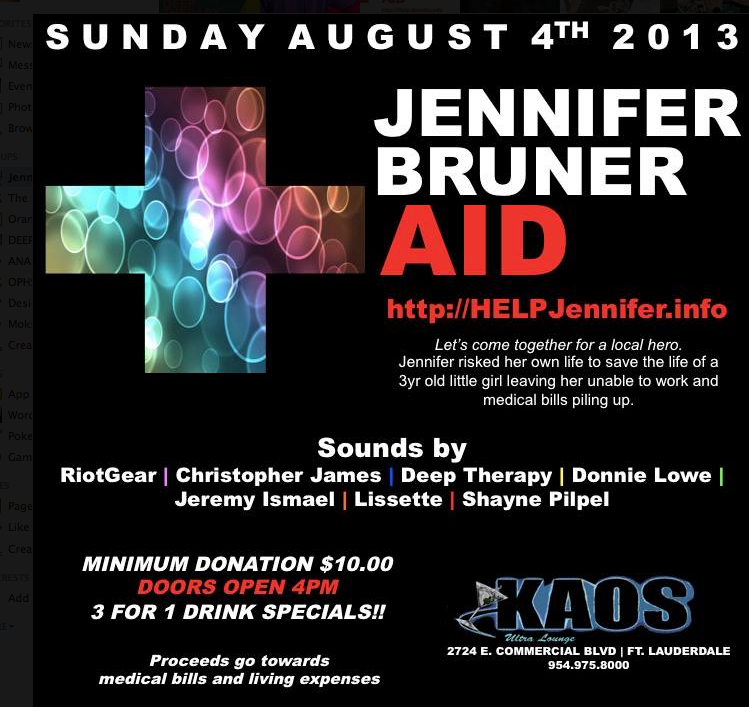 I am holding a fundraiser for a South Florida Hero named Jennifer Bruner.
On July 4th Jennifer Bruner shielded a 3 year old girl from being hit by a renegade firework. She sustained injuries that resulted in her going to the emergency room from her heroic action.
Jennifer Bruner Aid is a fundraiser to raise money to pay for Jennifer's medical bills and lost wages during her recovery.
The Fundraiser is August 4th at 4PM at Kaos Ultra Lounge in Fort Lauderdale
Address: 2724 East Commercial Blvd., Fort Lauderdale, FL
Suggested donation $10
Event URL: https://www.facebook.com/events/533470390039605/
Here is Jennifer's story:
It's the fourth of July… the BBQ is going, laughter is in the air and everyone is having a picture-perfect evening.  The sun has set and it's time for the best part of the night….. fireworks, big fireworks. The kind that can be seen for miles.
Seated in lawn chairs at the other end of the yard were Audrey, a 3-year old girl in a ballerina outfit, and a new friend she just met that day, 31 year old Jennifer Bruner. The fireworks flew high above the trees. They were loud. They were beautiful.
Then something went wrong. What was supposed to go up instead went sideways, across the yard. An explosive meant to light up the sky instead landed right at Audrey's feet.
Heroism is sometimes a decision. Other times it is rooted deeply- it is an instinct. This instinct makes all the difference between life and death, between a scare and disfigurement. Jennifer has this instinct. In less than two seconds Jennifer had bolted up from her seat, taken Audrey into her arms on her way up, and shielded the little girl with her own body. The shrapnel ripped what the doctor said looked like a gunshot wound in Jennifer's leg. The little girl got away with a tiny burn mark. Jennifer was rushed to the hospital. She waited for the surgeon with calmness and grace. She was there for a week with complications and for multiple surgeries.
What happened on July 4th is the Jennifer Bruner that I have known for 10 years. "Amazing" and "courageous" come to mind. But these qualities take a deeper meaning when they are seen in action, when a person makes a personal sacrifice to save someone from a blast.
Jennifer is a student and full-time worker who lives alone. She would do just about anything to help others. That is exactly what she did on July 4th. And she paid a painful price. Jennifer is unable to walk unassisted and does not know when she will be cleared by the doctors to work again. Meanwhile, her medical bills are piling up.
Please help and make a difference, just like Jennifer did.
Donate here: Http://www.HelpJennifer.info